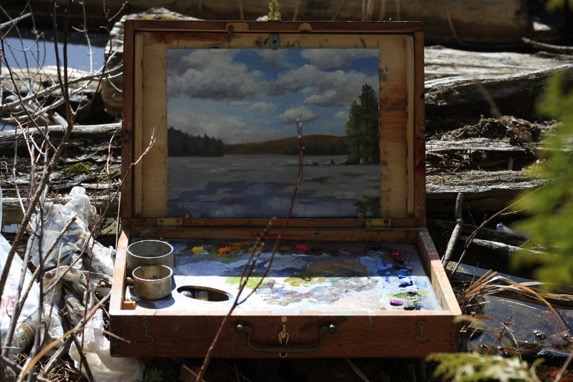 On the Trail of Tom Thomson, 100 Years Later
In recognition of the 100th anniversary of Tom Thomson's time in Ontario's Algonquin Park, 1912 to 1917, Canadian Artist Gene Canning paddled and painted his way into history. He followed the same canoe routes that Canada's most famous artist, Tom Thomson, followed 100 years previous. 
This three year project took Gene over hundreds of miles of rivers and lakes, as well as many miles of portages. 
Gene completed 150 field paintings during this time, many of them at the exact same locations where Thomson created his paintings all those years ago. 
 If an exact location couldn't be determined, Gene based his painting locations on his extensive research of Thomson's time in Algonquin. This including reading everything available, and speaking with historians. Gene also took a large Algonquin Park map and pinned all the known painting locations in order to track Thomson's travels each of the years he painted in the Park. This gave Gene the roadmap, or should we say, Canoe map of where he would need to travel. 
"The idea for this adventure came about while I was teaching art at Camp Tanamakoon in Algonquin Park in the fall of 2011. The camp's owner, Kim Smith, was giving a talk on the Tom Thomson mystery.  I had a revelation regarding the historical significance the period 1912 to 1917.  The realization that 2012 was the 100 year anniversary of Thomson's first trip into the Park. I've always been a lover of art and history. I had even painted at the site of Tom Thomson's famous painting Jack Pine a few years before. Even at that time, I was struck by the connection to history.  Sitting and painting at the exact spot where this famous Canadian artwork was created almost a century earlier.  That single painting sprouted an idea, one I would end up dedicating 3 years of my life and art career to. An event that would change me and my art forever. Tom Thomson author, David Silcox, had said to me that is would end up becoming more about you than will it will about Tom Thomson. How right he was…"
"I have always been an avid outdoorsman. I traveled alone on this journey, my companions being my canoe, my fly fishing rod, and my paints. I felt like I took a step into history. I also wanted to see how my paintings evolved over this time period, much as Thomson's painting style evolved. It let me explore how the Park, that influenced Tom Thomson so deeply, influenced me as well."  
"I've always canoed in the Park but never this extensively or with this type of focus. I wanted to see nature through his eyes, try to get into his head, to achieve a better understanding of his thought process, to discover what I believe, only another artist can. What motivated him, what drove him to have to stop and paint the subjects he did, and with such passion."
"I became so consumed by this idea that I even purchased an antique paint box similar to his, as well as an antique Chestnut canoe, the same make of canoe that Tom purchased in 1915 ".  
"There is one part of Tom Thomson's Park experience I thankfully did not follow, his mysterious death that clear summer day on Canoe Lake".
Special thanks goes out to Kim Smith, art collector and the owner of two well known Algonquin Park landmarks, Camp Tanamakoon and Bartlett Lodge, who saw the value of this project and therefore agreed to sponsor Gene on this historic journey into the world of art. The irony of their partnership was not lost on the pair, as Tom Thomson was sponsored in a similar manner, 100 years previous by art collector, Dr. MacCallum.