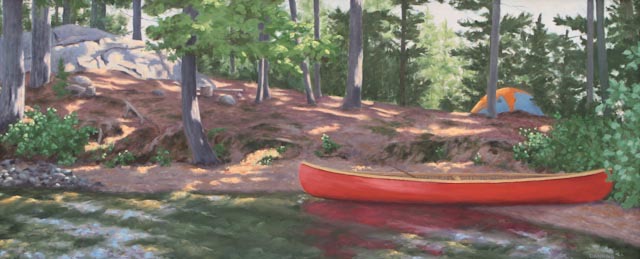 Hello, I am Gene Canning…
Welcome to my website where you'll see a variety of painting subjects and styles.  I find it hard to restrict myself to only one theme and so,  better or worse, I don't.
My favourite medium is oil but I also like acrylic and especially pencil. I love how oil paint feels as it moves under my brush, so most of my current work is in oil.
As you tour my site, please stop and read about my recent project on Tom Thomson; celebrating his time in Algonquin Park from 1912 to his death in 1917.
"On the Trail of Tom Thomson, 100 Years Later" is my way to explore and celebrate his time with us over 100 years ago.  As author David Wilcox said to me," …it will end being more a journey about you, than about Thomson" and he was right.
In the wide variety of subjects I love to paint, you'll find portraits, African wildlife, dogs and canoes. Although the subjects vary, they all reflect my love of the outdoors.
I love  travelling to the places I want to paint because I keep studying, experiencing and learning so I can express how I interpret the world onto all my canvases. 
Enjoy the journey with me.
Gene Canning